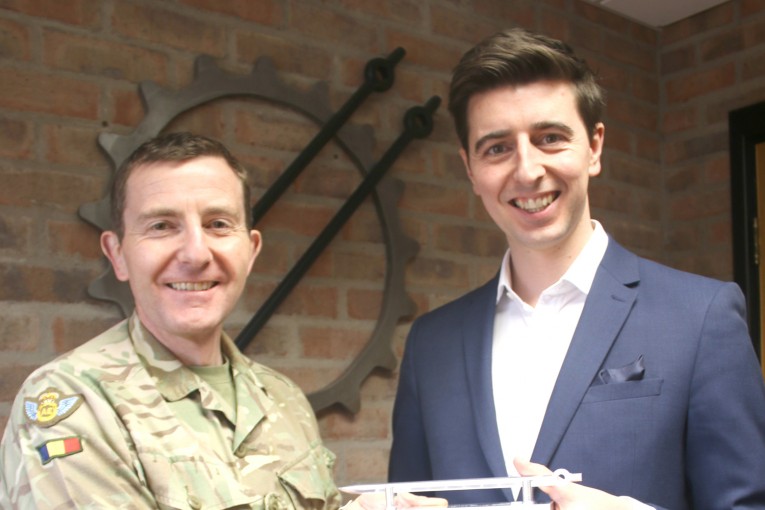 Bignall Group were delighted to support the REME barracks, with a uniquely designed piece of equipment.
It has long been a tradition in the Army that officers and soldiers leaving a unit are dined out by their peers and receive a symbolic gift to mark their service. Presentation gifts can take many forms, but should be representative of the unit and the role that it plays within the wider army. On Friday 7th April Lieutenant Colonel Nick Moore received delivery of the Battalion's new Officers' Mess presentation, which will be presented to officers at the end of their service or on posting to a new unit.
The presentation gift is a uniquely designed letter opener that represents an anchor pin, a piece of equipment in daily use by REME recovery mechanics and forms part of the battalion's "sprocket" motif. The new presentation piece was based on an idea by the Commanding Officer, who in conjunction with Oliver Bignall a designer from The Bignall Group, Shildon C.O. Lt. Col. Nick Moore with Bignall M.D. Steven Pugh created the finished piece and stand in beautifully machine tooled aluminium. The first of the presentations were awarded to Major Chris Prince on retirement and Captain Joe Lee on posting, at the Officers' Mess Dinner held at the Aycliffe Armoury on Saturday 8th April.
The picture shows the Commanding Officer receiving the first of the presentations from Steven Pugh the Managing Director at Bignall Group against the backdrop of the Battalion's sprocket motif. The Bignall Group founded by John Bignall in 1976 is a £3m turnover, family owned, engineering company which has been successfully exporting to 14 countries and holds multiple international patents. They produce a unique range of products designed and developed by the Bignall family.
This innovation permeates across everything we do to make our client's world better. "We are a genuine local employer, with over 70% of our workforce living within a few miles. The company also works with local schools and colleges to give something back to the next generation; whilst supporting our workforce with continued training and career opportunities" said Steve Pugh.